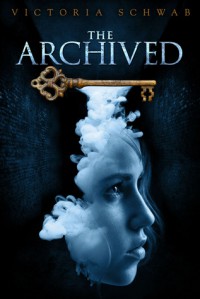 I must be on a Schwab high because after finishing a Conjuring of Light I could find no other book to satisfy my What The Heck Am I Going To Do With Myself Next Itch...I ended up here, which was SO unlike a Conjuring Of Light...BUT...that's okay because this was satisfying on a whole different level while still having the Schwab(esc) prose that we fans have come to associate with her and love her eternally for. Anyway, a really quick summation: Archived is about dearly departed loved ones, their "essences" that are stored on shelves in libraries called...you guessed it, Archives after they do the actual departing... and the kick @$$ people who are learning to navigate the often times emotionally and mentally turbulent waters of Grief as well as acquiring and fine tuning the skills necessary to preserve said people/places and the Archives they occupy....holy run-on sentence...sorry about that all of you OCD grammar folks. Here is a sample:
"It hasn't even been a year since Ben died. A year of words no one can say because they call up images no one can bear. The silliest things shatter you. A T-shirt discovered behind the washing machine. A toy that rolled under a cabinet in the garage, forgotten until someone drops something and goes to fetch it, and suddenly they're on the concrete floor sobbing into a dusty baseball mitt."

I for one am constantly in a state of awe at how Mrs. Schwabs' mind works. Her mental gears must be pearlescent and Fabulous in order to create such a cornicopia of ideas. How does she repeatedly come up with such fantastical worlds and the characters to populate?- all of which are wrapped up in beautifully colored prose.

"you're dying—not the fast, stone-drop way, there and then gone, but still. I can't stop squinting at you, as if I might see the disease picking you clean, stealing you from me, bite by bite."
This was a good book. Will I continue on with the series whilst juggling such a daunting TBR pile that is populated with the likes of Laini Taylor and Adam Silvera? Probably not...unless one of those itches arises that apparently only Mrs Schwab can reach.